ENGLISH version below ↓↓↓
2daysチケット
こちらの配信チケットで2日間の配信がご覧いただけます。
タトゥーコンテスト
タトゥーアーティスト インタビュー
彫られ師ショー&各ショー
両日三時間づつ
計 六時間映像盛り沢山配信
1days 22日(日)16:00〜
2days 23日(月・祝)16:00〜
アーカイブ視聴:12月3日(木)23:59まで
チケット購入:12月3日(木)18:00まで
※配信中投げ銭(Stickits)は金額ボタンカートマークをクリックしてください。
※放送終了後でもチケット購入+チップ(投げ銭)でお楽しみ頂けます。
※ネット環境の影響等で、放送の遅延などが発生する場合がございます。アーカイブは遅延なくご覧いただけますので予めご了承ください。
※配信内容を録画するなどして再配信する行為は禁止させて頂いております。
※生中継中は、途中から視聴した場合はその時点からのライブ配信となり、生配信中は巻き戻しての再生はできません。生配信終了後、巻き戻しての再生が可能です。
※配信終了後、アーカイブに動画が反映されるまでにお時間を頂戴いたします。何卒ご了承ください。
収益の半分は新宿ロフトに寄付されます!
配信は英語もお楽しみいただけます。
[king of tattoo HP]
http://kingoftattoo.com
ーーー
2days ticket
Ticket is valid for watching both days.
It will be streamed on both November 22 and 23, and will also be available in English.
The money raised through live online viewing tickets will go towards future King of Tattoo conventions, with a share given to the venue in order to support the suffering local music event scene.
<Streaming Schedule>
1st day: November 22nd (Sun) 16:00 JST ~ (plans)
2nd day: November 23rd (Mon) 16:00 JST~ (plans)
※Japan time
Archive Viewing till 23:59 JST December 3rd (Thu)
Ticket Purchase till 18:00 JST December 3rd (Thu)
*Tipping & Stickits: Always welcome! Please click shopping cart, according to the price.
*You can purchase and give Tip&Stickits also from archive after the live-streaming.
*There may be delays in broadcasting due to the Internet environment and other factors. The archives can be viewed without delay.
*It is prohibited to re-distribute the content by recording it.
*If you watch from the middle of the live stream, it will be streamed live from that point on, and cannot be rewound and played back during the live stream. (You can rewind the video after the live webcast ends.
*Please allow some time for the video to appear in the archives after the live-streaming ends.
King of Tattoo 2020 Live-Streaming
<Artist List>
SABADO (Nagoya) / Shige, Yellow Blaze (Yokohama) / Hiro, Swallow's Nest (Kyoto) / Horiei Shinshu (Nagano) / Horiman, Desperado Exchange Tattoo (Osaka) / Shinshu Manabu, Seventy Light Fact Tattoo (Nagano) / Nanao, Avant-garde Design (Okinawa)
only on Nov. 22nd: Nanao, Avant-garde Design (Okinawa)
only on Nov. 23rd: Mica Cat, Calico Circus Tattoo (Tokyo) / Nobu Isobe, Kijinkan (Tokyo)
<Program>
-Photo Exhibition by Kikuchi Shigeo
-Tattoo Contest. Special trophies, donated by: Wizard TS, Antenna TS, Zocalo and Feather Needle)
Categories on Nov. 22nd: Sleeve (Arm & leg), Black and Gray and Full Body Suit.
on Nov. 23rd: One Point. Small, Backpiece, Best of Show
-Body Painting Show
-Art Fusion performance
-Horareshi (Tattoo Collectors) Talk Show
-Special Talk Show with legal team from tattoo legalization case in Japan (Nov.22nd)
-Burlesque Dance by Aya Marmeid (Nov. 22nd)
-Acoustic Live Music by Junk (Nov. 22nd)
-Japanese "TAIKO" drum show by Hirozumi Waka (Nov. 23rd)
-Traditional Shamisen Improvisation (Nov. 23rd)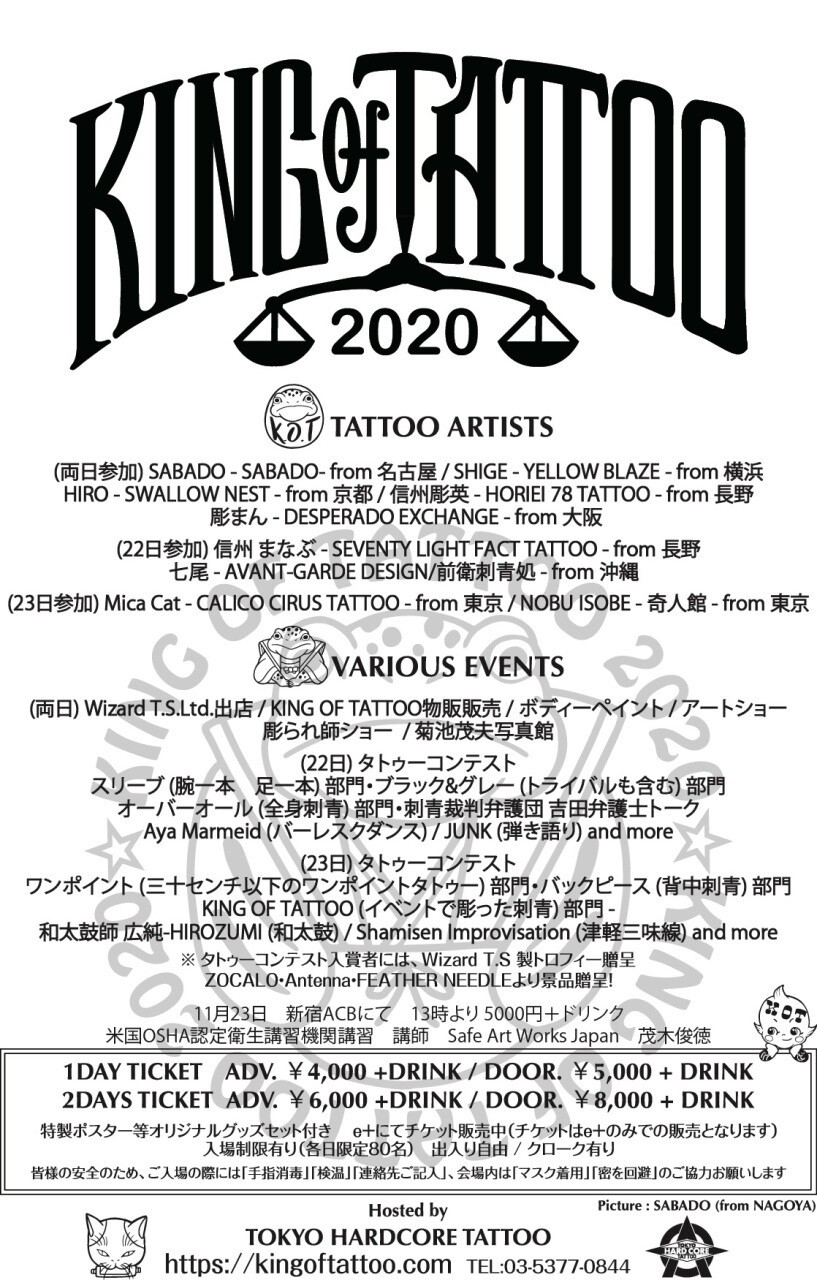 share
Pop-out